Christmas is coming to montreux and interlaken
With less than six weeks to go until Christmas day, we take a look at all the festivities Swiss Hotel Apartments guests can enjoy during their stay in the Montreux and Interlaken regions.
Only a short walk from Swiss Hotel Apartments, Montreux Christmas Market, known locally as Montreux Noël, is arguably the greatest festive event in Switzerland. From 19 November until 24 December, traditional wooden chalets line the promenade along the shores of Lake Leman. Visitors can buy gifts from across the world whilst also enjoying a range of local and international culinary delights. Admire the beautiful lights of the market from the ferris wheel, watch Santa fly across the sky with his reindeer or decorate your own Christmas chocolate at the workshop of Chocolats Läderach. An illuminated ice pathway called Light on Ice is new addition to Montreux's festivities this year. There you can skate through a forest, with an ice bar and more.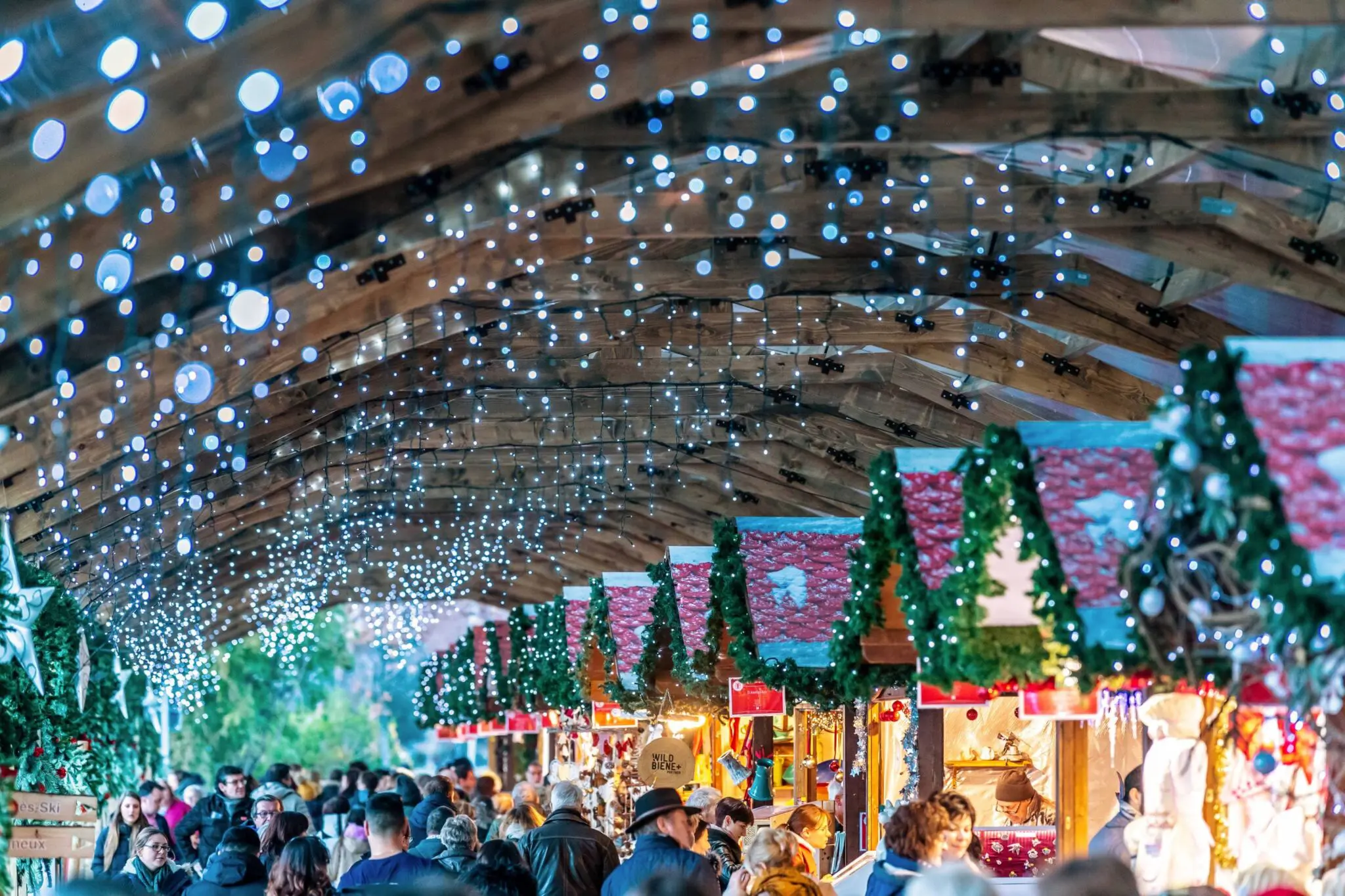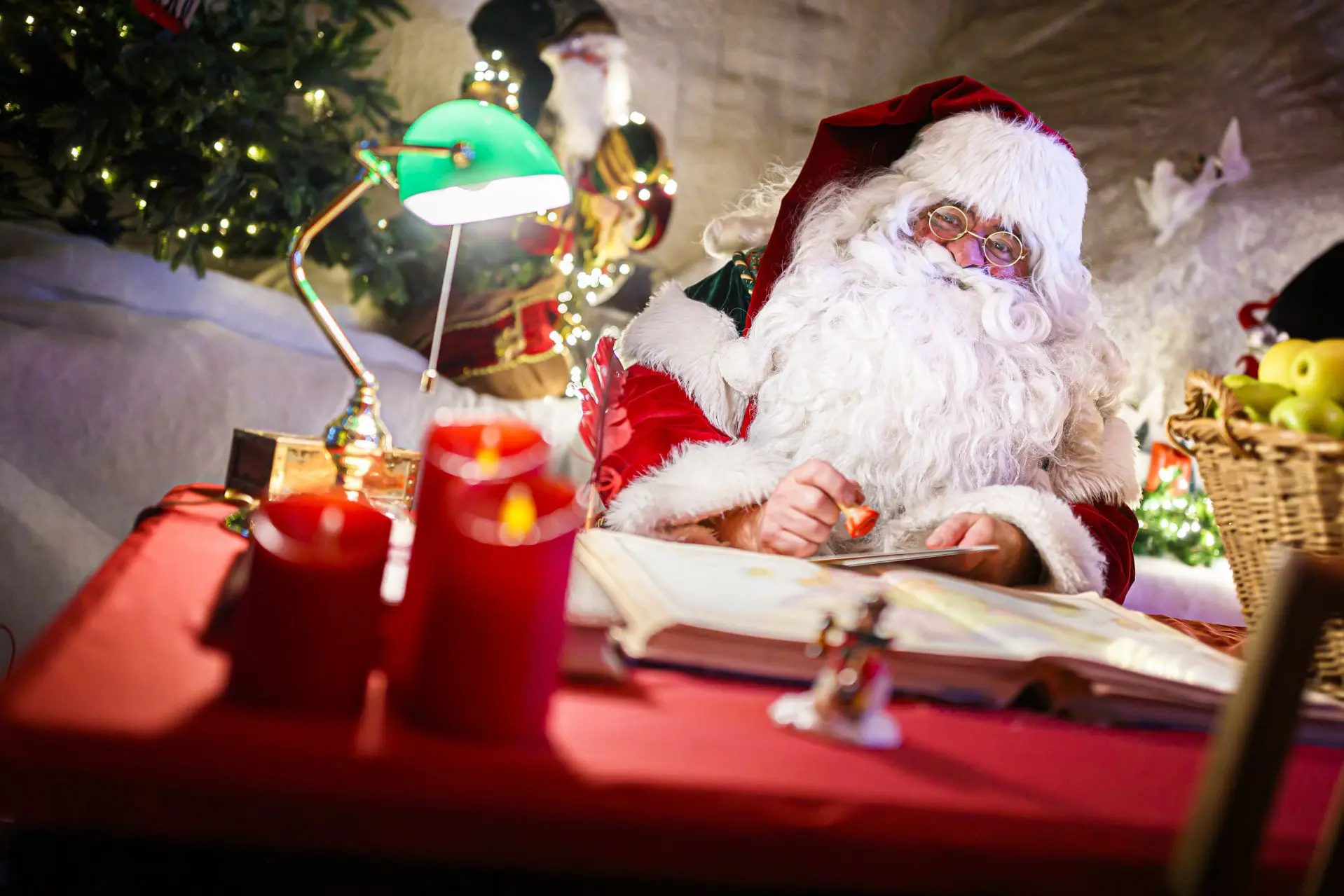 There's nothing more special than visiting Santa, and where better than a mountain-top grotto in the snow. Take the panoramic train ride on the Goldenpass line to the top of Rochers-de-Naye, perched above Switzerland's largest lake – Lake Leman. The 45 minute train journey offers breath-taking views of the alpine landscape as you twist your way up the mountains that surround Montreux. Upon reaching the peak you can visit Santa in his Grotto, and, if you've been a good boy or girl, receive a present from Father Christmas himself. The train leaves regularly from Montreux Train Station, which is within short distance of Swiss Hotel Apartments. Santa's grotto is open from 25 November until 24 December.
Montreux is approximately 1 hour from both Geneva and Bern, and 2 hours from Zurich.
A short 20 minute train ride west of Montreux is the city of Lausanne, where this Christmas you can experience a truly magical festival for all ages. Lausanne Lumières, a light festival that shines across the city center and the old town between 24 November and 24 December. The best part – it's free! With buildings and sculptures illuminated, it's a unique experience that illustrates artwork by around 15 artists. Why not combine this with an evening shopping trip? Lausanne's city centre stores and chic boutiques open late on three nights during this period. Elsewhere in the city, Bô Noël brings Lausanne to life from 18 November to 31 December. The Christmas market offers the Pépinet Creators' Market with its creators' boutique and exhibitors; the Place de l'Europe Terroir Market with its Vaud igloo and many food stalls; the Place Centrale with its new ferris wheel and its famous Coeurnotzet under the Arches of the Grand Pont while the Cité Children's Village has an animal farm, storytelling yurt and pony rides around the Cathedral. On top of this, there's horse-drawn carriage rides through the city and a giant New Years eve silent disco.
Get into the Christmas spirit this festive season. Swiss Hotel Apartments have a range of luxury apartments catering for all sizes OF groups in Montreux and interlaken.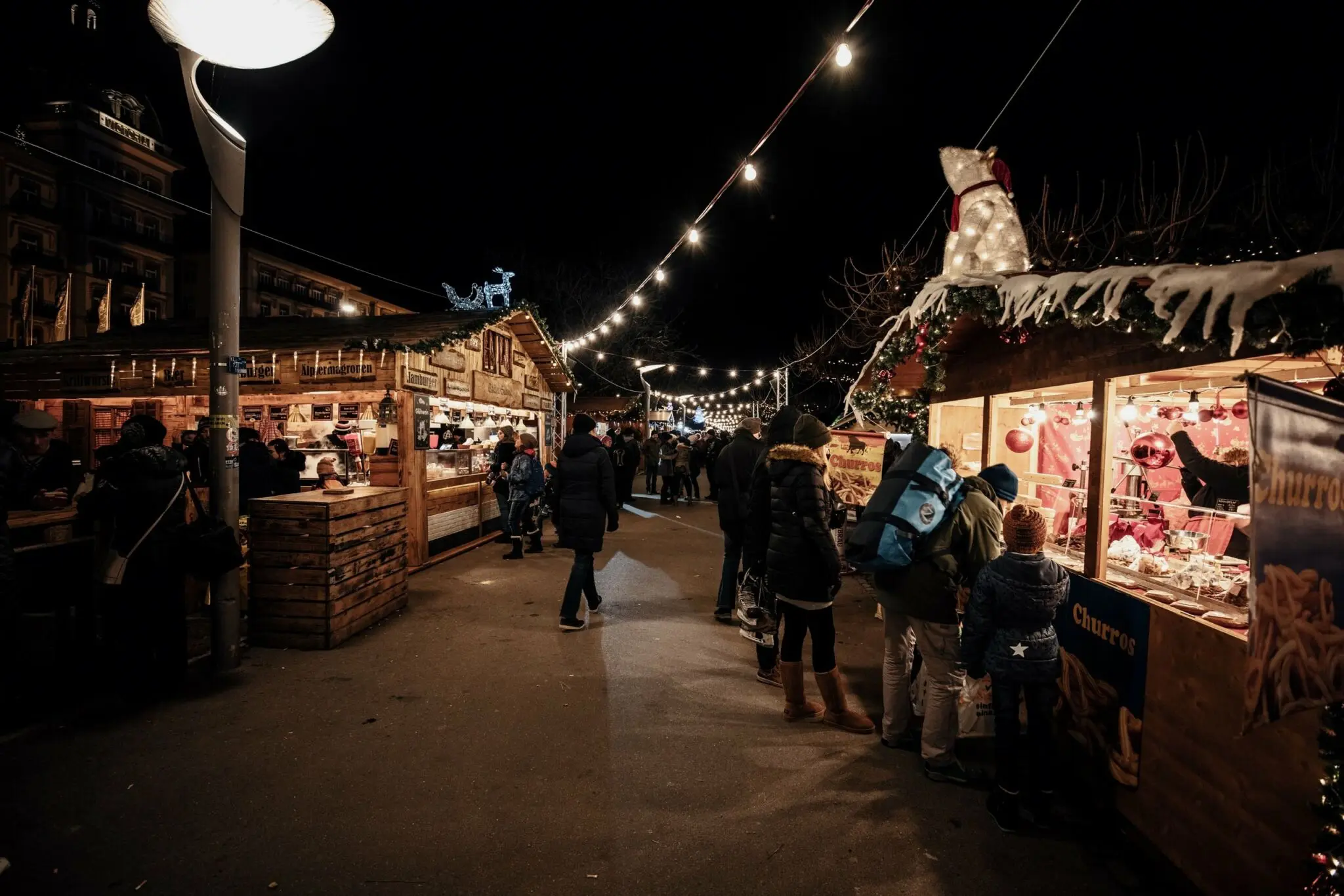 Interlaken in winter is a truly magical experience. Within walking distance of Swiss Hotel Apartments, the Christmas market Winterzauber Interlaken has all the charm of an alpine Christmas with its wooden chalets, festive activities, traditional foods and an array of gifts on offer. Get bored of eating, drinking and shopping? Then why not take a stroll through the streets of Interlaken and discover the different creative works from local artists displayed in each of the town's main squares. Each night these pieces of art are illuminated, complementing the Christmas trees decorated throughout the town, providing a truly festive spirit as you explore this fascinating place.
Christmas is not Christmas without some snow and ice. And this winter you can find it right in the heart of Interlaken, ICE MAGIC on the Höhematte. Less than 10 minutes walk from Swiss Hotel Apartments, you will find this unique skating experience. If you don't have your own pair, you can hire skates to enjoy magical illuminated ice paths which wind towards various practice rinks. There you will find (soft) ice hockey and Bavarian curling, ensuring there's fun for all the family. If that sounds like too much effort, why not enjoy a tasty dinner at the cosy Swiss Chalet Restaurant or tuck into a snack at one of the food stalls?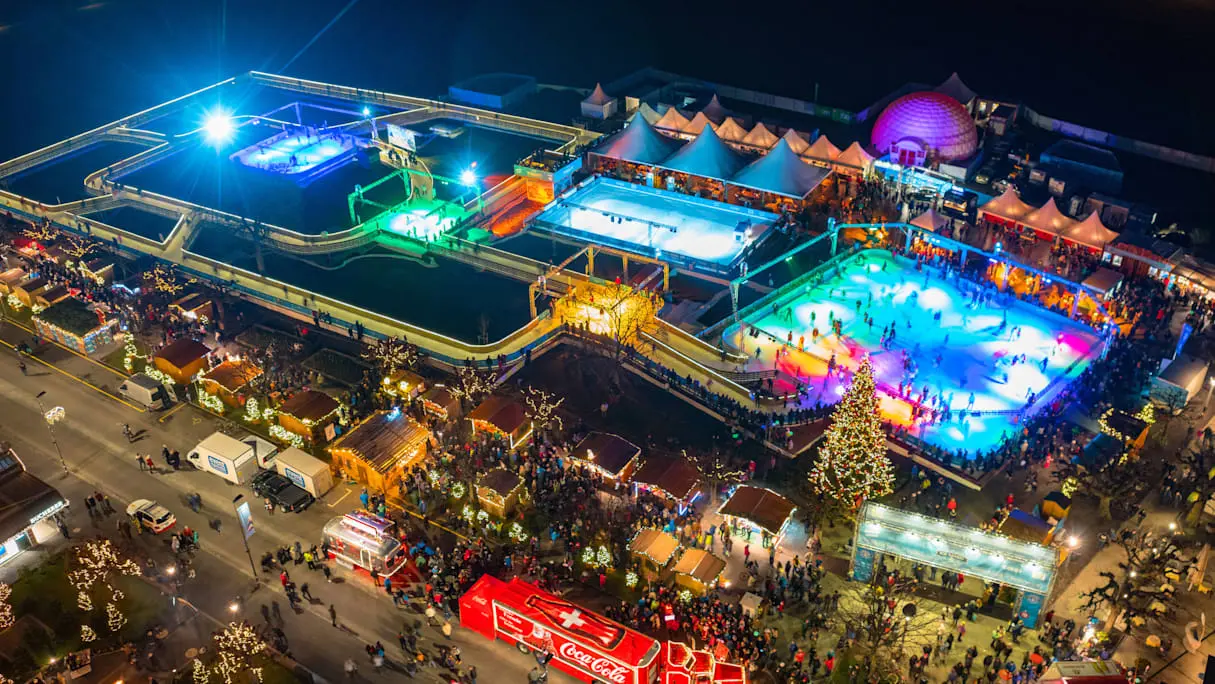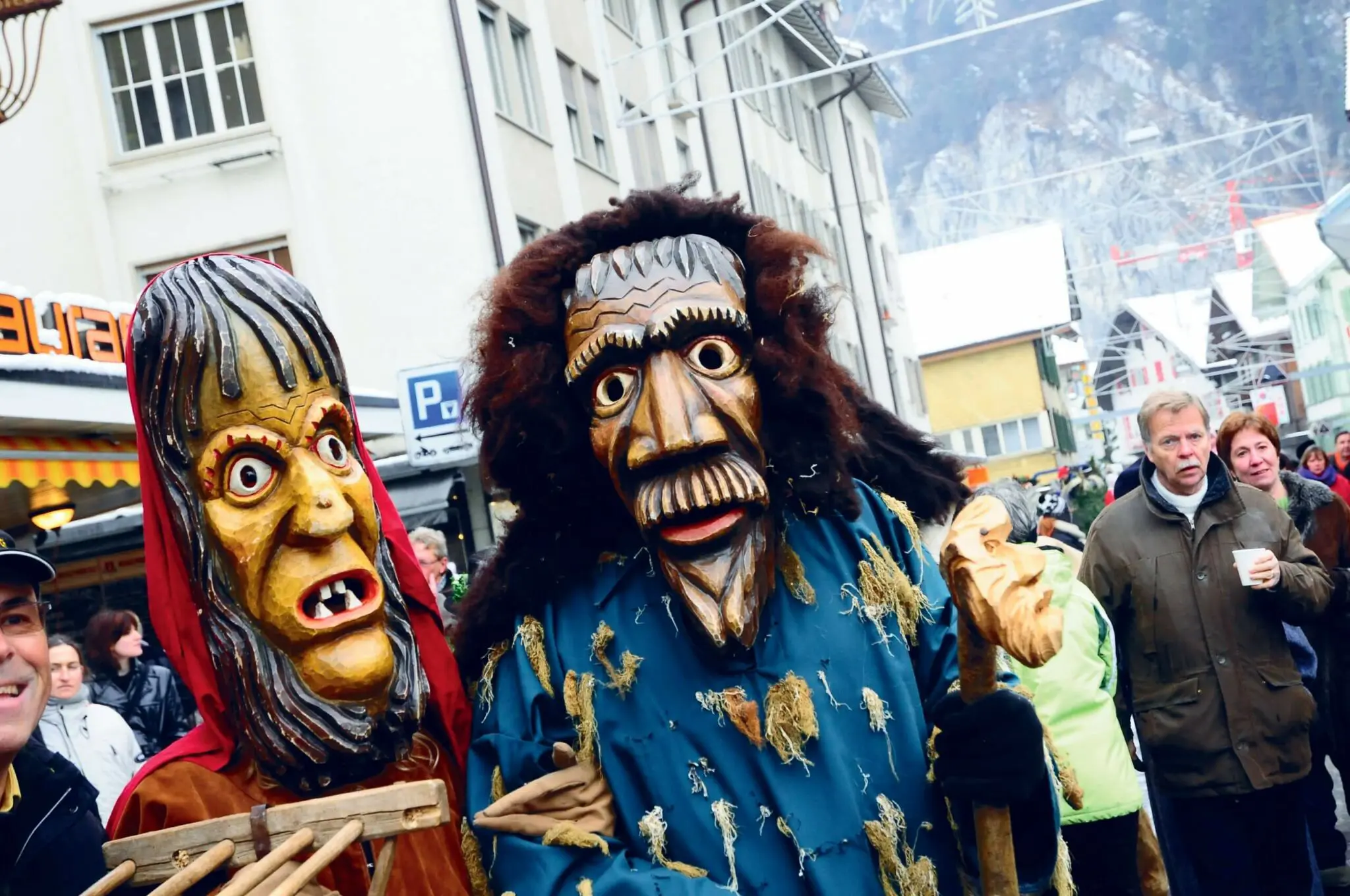 Looking a bit further ahead, Interlaken plays host to the Longest New Year's Eve, taking place over three days between 31 December to 2 January. The celebrations on the evening of 31 December are followed by the first open-air concert of the year on 1 January. At Touch the Mountains, you can listen to free, live music. On 2 January, Interlaken is haunted by the Hardermannli (the spirit of the Harder Kulm mountain), his wife and their children, the Potschen who, donning masks, frolic through the streets of Interlaken. After the traditional Potschete procession, people gather in the pubs around Interlaken. The Harder-Potschete has been celebrated in this way for almost 50 years. Other traditional New Year celebrations are held in nearby in Beatenberg and Sigriswil, for instance, where young "Trychler" walk through the village sounding their bells to welcome in the New Year.